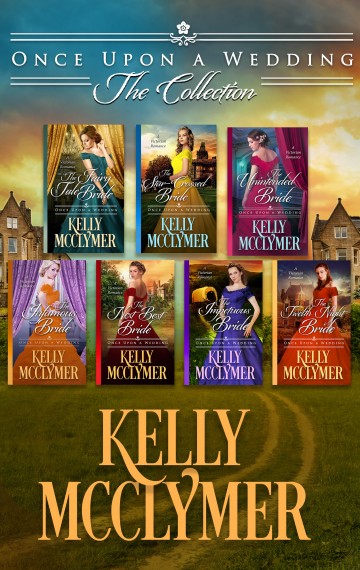 Bargain!
14.99
Publisher:

Kelly McClymer Books
iBooks
Barnes & Noble
Special Early Christmas Deal for My Readers!
You, my dear readers, need an early Christmas deal, just for you!  The holiday season is wonderful, but we so often get caught up in thinking of others we neglect ourselves. Get the Complete Collection of Once Upon a Wedding novels in one volume, for $6.99, less than half the usual discount price ($14.99), and you'll be able to slip away to the Victorian era for a little romance when the holiday season gets too much for you.
Because this is a very special deal, it is only available from my website, not at the other retailers. If you prefer to buy on your favorite retailer, never fear, I'll have it on sale Christmas week there. Just not for quite such a discount as I'm giving for those who buy it from my me directly (it will be $9.99 for the week between Christmas and New Years Day).

Once Upon a Wedding: The Collection Half-Price Sale
Once Upon a Wedding: The Collection contains 7 full length Victorian historical romance novels in the Once Upon a Wedding series.
$6.99
Description:
You are invited to attend the weddings of seven very unconventional Victorians. The Fensters love with all their hearts, but none of them have an easy path to happily-ever-after.
This collection contains seven full-length historical romance novels.
The Fairy Tale Bride tells the tale of a penniless woman who believes in happily-ever-after — for everyone else but herself. When she finds herself unexpectedly married to an arrogant duke who thinks fairytales are for children and fools, there's only one way forward. Change his mind.
The Star-Crossed Bride tells the tale of a penniless young man who agrees not to pursue the woman he loves so that she can marry someone who can take care of her as she deserves. But when he discovers that her fiance may be a serial killer, his resolve is sorely tested.
The Unintended Bride tosses together two shy bookish scholars, sending them on the adventure of a lifetime.
The Infamous Bride brings Romeo and Juliet's tale from London to Boston, with a very distinctive twist.
The Next Best Bride explores just how far one twin will go to protect her sister. And then, when her sisterly devotion leads to the altar with a roguish earl, just how far she'll go to protect her heart.
The Impetuous Bride follows the wildest Fenster from the American South on a trek across the country on a wagon train. She already ditched one man at the altar, the last thing she wants on this trip is a husband, no matter how much she needs one.
The Twelfth Night Bride ends the tales of the seven very unconventional Fensters when the youngest Fenster refuses to accept that her husband wants a divorce and travels to Ireland to confront him with all that he is about to lose.