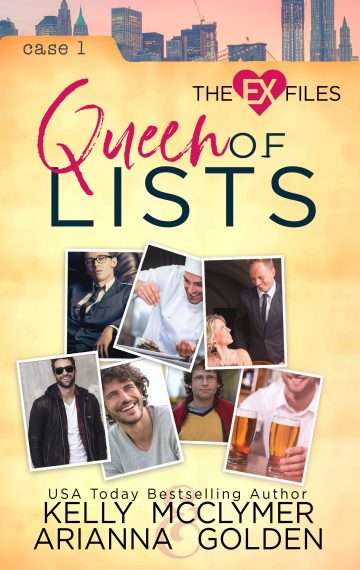 Available Soon!
Publisher:

Kelly McClymer Books

Available in:

mobi, epub, paperback
Queen of Lists, the first book in the Ex Files series, follows Diana Hudson, an aspiring — virgin — journalist, and her best friend neighbor, Nick Coletti. Diana is roped into re-evaluating each of her seven ex-boyfriends by her boss because Diana keeps a little black book of boyfriend ratings. Will her first assignment lead Diana to her dreams of love and success?
As Diana's photographer, Nick must suppress his secret love for her while shadowing her dates with the billionaire banker, the executive chef, the bad boy carpenter, the old-money billionaire, the bartender, the hipster geek, and her first love.
Nick is everything Diana doesn't want in a husband. Stuck in the friend zone, he's convinced the best he can hope for is to make sure Diana gets her perfect man.
Are Diana's Ten Commandments for Love and Marriage blinding her to her perfect match? Will Nick's photographs show Diana the man she's overlooked?
New from USA Today Bestselling Author Kelly McClymer and emerging talent Arianna Golden, The Ex Files is a fun, lighthearted clean romance series reminiscent of How to Lose A Guy in 10 Days and The Devil Wears Prada.