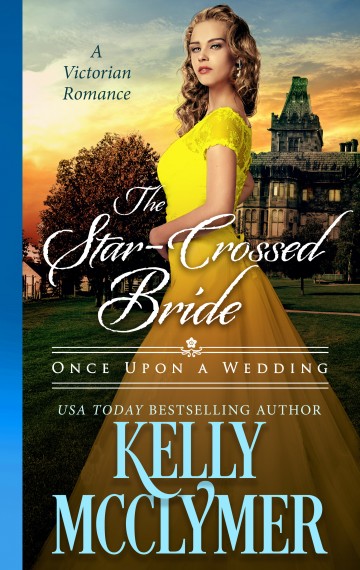 Publisher:

Kelly McClymer Books

Available in:

ebook, audiobook

ISBN:

978-1-4524-5839-7
From USA Today Bestselling Author Kelly McClymer comes a tale of two lovers who refuse to be parted…
Praise for The Star-Crossed Bride
"An improbable delight! — highly recommended." — C. Penn
Description of The Star-Crossed Bride
Lady Emily Wertherly has been locked away ever since she tried and failed to elope with Valentine Fenster. Two failed engagements later, Emily, still in love with Valentine, finds herself promised to Lord Granbury.
Valentine has proof of a dark secret that Lord Granbury wants to keep hidden. He knows he'll be shot if he shows up at the Wertherly estate, but his love for Emily won't let him rest until he knows she's safe.
Will these star-crossed lovers prevail or will they be sundered forever?
Read the Digital Edition of The Star-Crossed Bride:
Listen to the Audio Edition of The Star-Crossed Bride:
EXCERPT from The Star-Crossed Bride
She let out the rope, and squinted down to see where it reached. It didn't reach all the way to the ground, but was it ten feet too short? Five? Courage, she told herself, you have jumped farther than that climbing field gates.
Even with the locked door to remind her how awful her future was, she hesitated on the sill. If she fell . . . She'd just have to make certain that she did nothing so silly as fall. Holding her breath, Emily began to climb down. When she had reached the end of the makeshift rope, she dared a hasty peek down to see how far away the ground was. It seemed, at this point, to be much farther away than she had thought.
For a moment she hung there, her arms aching, her eyes closed against her damnably vivid imagination. Would the countess cry to see Emily's broken body upon the grass tomorrow? Would they assume she had tried to kill herself? She shivered at the thought of being buried in unhallowed ground.
Would it be better to climb back up? Could she climb back up?
Courage, she reminded herself, and released her grip on the bedsheet. She dropped farther than she expected. However, her landing was not on solid ground, but rather into a pair of strong and encompassing arms, which clasped her against a broad cloth-covered chest.
For a moment she thought she was caught and would find herself an unwilling bride before morning, and then her captor released her with a little push and a familiar voice whispered, "What are you doing, you reckless little fool?"
She turned and faced the man who had held her so tightly for but a moment, and then let her go free.
"Valentine. "
"Lady Emily" His face was familiar and strange all at once. She knew his features by heart, but three years had changed him. His once ready smile was tucked away and he had only a stern look for her.
Still, he was here, just when she had determined to go to him for help.
She could not seem to break her gaze from him. Or to speak. All she could think of for a moment was that her longing, her need, had conjured him from London to her side in a flash of witchcraft. He couldn't be real. But he was. With no thought to her resolution of minutes before to expect nothing, with no thought to his wife, she threw herself at him, arms tight around his neck, and kissed him full on the mouth.
Read the Digital Edition of The Star-Crossed Bride:
Listen to the Audio Edition of The Star-Crossed Bride: