Did you know that corsets began to be used in the Western world regularly in the 1500s (where they were called "whalebone bodies" see Corsets in Context). When I began to do my research into why Miranda (of The Fairy Tale Bride) would prefer not to wear her stays, I thought of a corset as something from Gone With the Wind, meant to cinch in the waist.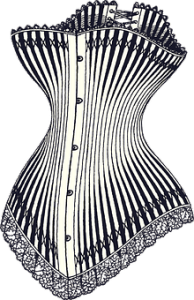 Contrary to my then-uninformed opinion, I discovered that corsets (or stays as they were often called) changed as fashion changed. Just like modern fashion trends tend to go from skinny jean legs to flared leg styles in cycles, so did corsets go from pinched waist to normal waist trends. In the 1830s and 1840s, the same time period when Miranda's broken stay caused her considerable distress, the hourglass figure was the desired shape. But in the high-waisted Regency fashion period, it was more important that a corset lift the bust than make the waist as small as possible.
I still don't want to wear a corset myself, but I admire those seamstresses and costumers who make the corsets (of all shapes and designs) for those who attend Victorian, Regency, or Elizabethan costume events.
What's your opinion on corsets? Would you wear a corset? Would you make yourself one? Comment and let us know!