This post is part of the Empowering the Goddess Within Blog Tour hosted by www.BraveHealer.com.
To read more entries and potentially win a fun prize, visit the tour page HERE, between today and 9/18/17.
How I Unwittingly Awoke the Wild Goddess by Trying to Write a Bestselling YA Fantasy
Do you hesitatingly set ambitious goals for yourself every now again?
Me too.
About a decade ago, after I'd published ten novels, I began to look very hard at how to write a bestseller. It seemed like a reasonable ambition, not too much for a busy mom of three with a day job. After all, in my experience, novels are written in neglected, cobwebby corners of the day between dusk and dawn. No harm, no foul if I didn't succeed. No one would even know what I was doing unless I succeeded.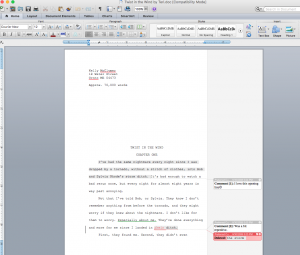 I had an idea I already liked, called (at the time) Twist in the Wind. It was a fantasy about a girl who could read thought dust (the leftover thoughts someone left after they touched someone). I'd written three chapters, and sent it to writer-friends for evaluation. They liked it, but…it was missing something that might make it a bestseller contender.
I researched the bestselling fantasy books at the time and noticed there were a lot of mythic and fairytale connections. Cool. I liked myth. I liked fairytales (my first historical romance was titled The Fairy Tale Bride, after all 🙂
But I didn't want to use just any old myth or fairytale. No. I wanted to go somewhere not too many people had gone. So I looked to see where the oldest fairytales may have originated.  I settled on Baba Yaga. There isn't much about her with that name, but when you immerse yourself in fairytales and female myth, you quickly see that Baba Yaga is in every goddess, fairy godmother…and evil witch…in the most compelling fairytales and mythic stories.
So I started revising my simple Twist in the Wind. And rewriting. And plotting and planning and outlining. Ten years, yo.
The story world grew into a trilogy. And then a trilogy of trilogies. And then a set of seven serializations. With a companion 1,000 short stories. All set in the EverTwixt world.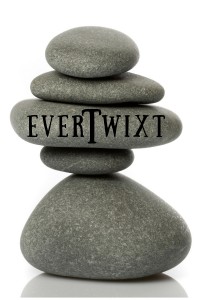 EverTwixt was an official thing — but it was unleashed only in my computer, myriad notebooks, and my head. I didn't see how I could ever unleash it out into the world. What had I done? This was too ambitious.
I tried to stuff everything I'd unleashed back into a neat trilogy-shaped box. But, like Pandora, I couldn't.
Belatedly, I realized I had awoken my Inner Wild Goddess. And she looked, sounded, and acted, a whole like Baba Yaga.
The breadth and scope of my idea began to confound me. Something like this can't be written in the cobwebbed corners of the day. "I can't do this, find someone else," I pleaded with Baba Yaga.
The wild goddess blew a cold wind on my neck and haunted my nightmares. "Your quest is hardly begun. You need companions to keep your will strong. Have you learned nothing from all the myth and fairy tales I've sent you to guide you on your way?"
Obediently, with no idea how to do what she was asking me (writers write alone, for the most part), I reached out to find readers who might want to play in my world early on and help propel me through the dense fabric of the world I was creating from the strongest but most gossamer of story threads.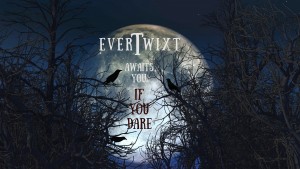 I built an EverTwixt website and put up the first couple of episodes for free download. No one came.
Once again, I told Baba Yaga that I wasn't up to the task. She laughed her weird, wild laugh and taunted me. "Did Cinderella make her dreams come true by staying home when I gave her what she needed to enjoy the ball?" she asked me. "You'll have to leave your cobwebby corners and venture out into the wild of the world if you want to succeed at your quest."
So I ventured out and began to pick up allies who had skills I did not. I joined a business accelerator program and learned what skills I would have to learn in order to create a stable, sustainable site. I joined a mastermind group to find allies who had woken their Inner Wild Goddesses and wanted to change the world as well. I talked to random readers and writers about my idea. I experimented with different marketing tactics and techniques to find the ones that might work for me.
I was proud of all that I had learned, even though I put little of it to practical use. Just like all the epic questers before me, I had gathered allies and knowledge about how to succeed. I had won — and lost — small battles along the way. I was epic. I was awesome. I was…
Baba Yaga laughed at me again. "You still have to launch to the world, you know. Only time will tell you if you will succeed in your quest."
"I'm not ready," I explained to her. "First, I'm going to create the most epic reader site ever known to readerkind, and then I'll know enough to launch EverTwixt properly."
Baba Yaga shook her finger at me. "You owe me. I whispered the truth to you until it became a fire in your veins. You must let it burn free, come what may."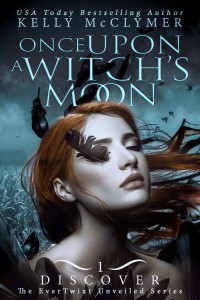 EverTwixt is about to relaunch, with all that I've learned so far. It will be a soft launch because it turns out my Inner Wild Goddess has much bigger plans for me. She's happy to let EverTwixt grow like a wild-seeded garden over time. Turns out my next big quest is to create that epic reader site with some very strong allies.
But to do that, I have to let the seeds and early blossoms of EverTwixt free to spread themselves, however slowly.
My Inner Wild Goddess tricked me out of my cobwebby corner with a simple ambition, but I forgive her. I've met so many awesome allies along the way. I know there are more to come. Maybe my quest's epic journey will not end with a bestseller. But maybe that was the only ambition Baba Yaga could hold out to pry me out of my cobwebby corner.
And now that I'm out…I'm not going back in.